Why do you think defendants are not allowed to see secret study data?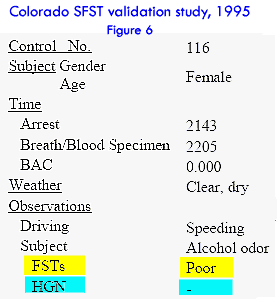 A close look at the Colorado SFST study suggests officers' FST testing amounted to vague unstandardized intuitions like "Poor"—with no HGN test done.
What does "poor" mean? How did "poor" impact officer's decisions? The study doesn't say.
The data from this key study is secret. The study is used to convict defendants, but defendants can't see the basic government data the conclusions are supposedly based on. Defendants can't test whether police in this study.even did recognizable FSTs.
All data

Southern California Research Institute, as I read validation reports, contracted with the NHTSA to do the Florida, Colorado, 1981, and 1977 studies. SCRI data seems to be secret. SCRI's executive director, Dr. Dary Fiorentino, answered my emails, but refused to release any data. At least I think he did—I was never able to decode his responses to tell whether the data has been lost, or destroyed, or whether it still exists but is secret.
SCRI's executive director even refused to release the "case log" appendix originally included in the Florida study's official final report (a study he worked on), although again his apparent evasiveness left me unsure if the official report SCRI was paid hundreds of thousands of dollars to prepare has been lost, destroyed, or is secret.