Let me show you
Here is raw data from the most recent, most up to date NHTSA SFST field validation study, San Diego 1998. The picture is from one of my working Excel files, so it's not purdy. This is the SFST validation data for one officer in the study, Officer 3661. Each row has the results for one driver tested by Officer 3661.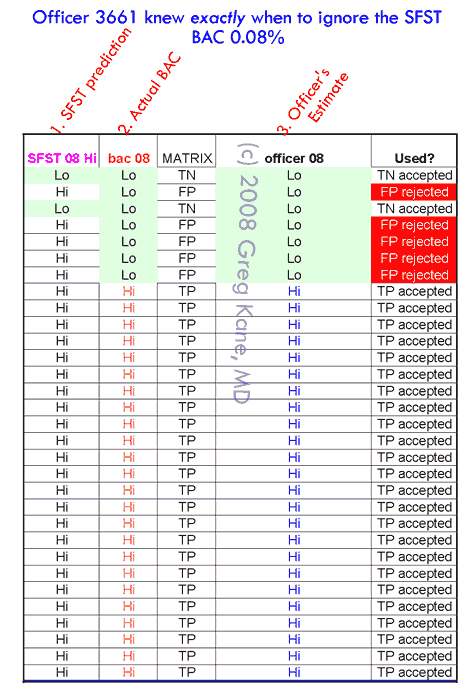 NHTSA keeps track of three things: 1 SFST score, 2 Actual BAC, 3 The officer's guess about what the SFST is. I've numbered those columns.
Remember, SFST scores are not supposed to predict a specific BA level. All they do, supposedly, is predict BAC high or low. To match that theory this table simplifies SFST score according to NHTSA's standardized FST interpretation criteria, to "Hi" or "Lo." BAC the same, above or below the 0.08% limit SFSTs supposedly identify.
NOTICE
The SFST coordination test does in fact work like a metal detector. Everyone with a high BA (column 2, red "Hi") is uncoordinated (column 1, "Hi"). But most people with a low BA (column 2, green "Lo") are also uncoordinated (column 1, white "Hi").
For the 7 innocent people the SFST gives the correct answer only 2 times. On innocent people the SFST is 30% accurate.
Officer 3661's predictions were perfect. When the SFST gave the correct answer, that's the answer the officer gave too. But every single time the SFST gave the wrong answer, officer 3661 rejected that answer—corrected the wrong answer to the right one. Officer 3661's BAC high or low guesses match the PBT high or low results exactly.
On innocent people Officer 3661 was 100% accurate.